Description
The 2022 Wall Calendar from Zinnia Sky Studio is here! As always, you get twelve fun and happy southwest desert designs. As an added bonus, these twelve designs are set up so that with just a little trim with your scissors, they'll drop right into a standard 8 x 10 frame because seeing them for just one month isn't near enough time.  A full 11″ x 17″ when hanging, this calendar will make you and your walls smile.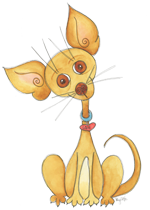 Find Paco….When my kids were young, we would read Richard Scarry stories over and over and over again. Our favorite part of those stories was Gold Bug – a tiny golden bug that he hid somewhere on every page.  So, to celebrate that great memory, I have included a tiny Paco somewhere each month. Paco is my first Arizona Chihuahua – a sweet little rescue who grabbed my heart the very first time I laid eyes on him and he whined for me to pick him up.
This calendar will make you and your wall smile all year long. Featuring a clean, crisp, monthly layout so you can easily write all your most important events down, you'll love checking it every day to see what's going on in your world. Treat yourself or all your special someones with an entire year of smiles with this 2022 Zinnia Sky Studio Calendar.
Important things you want to know about the 2022 Calendar Whimsical Watercolor Southwest:
This calendar was created & professionally printed in Tucson, AZ.
Printed on 80# paper with 30% post consumer waste.
Featuring 12 designs vividly printed so the colors will pop right off the page.
***Added bonus*** the artwork is set up to fit right into a standard 8″ x 10″ frame with minimal trimming.
Spacious 1″ date squares with room for stickers, notations and important dates.
Exquisitely bound with Wire-O to last the entire year and then some.
Measures an impressive 11″ x 17″ when hanging (8.5″ x 11″ when folded).
A perfectly centered hole for hanging beautifully on the wall with a simple hook or nail.  Or clip to your refrigerator for easy viewing.
Packaged in a clear cello sleeve to keep the whites white and the colors bright.
Shipped through the U.S. Post Office with tracking and packaged in a protective bubble envelope to arrive safely to you.
Contact me to discuss upgraded shipping If you prefer a faster method.
If 11″ x 17″ is too large for your space, CLICK HERE to see the smaller version created just for this reason.
If you'd like a calendar dedicated to those yearly events – you know, birthdays, anniversaries, the important things – CLICK HERE to see the Zinnia Sky Studio hanging birthday calendar.
Boring but important disclaimer:
Original artwork designed by Tracy Foltz and Zinnia Sky Studio. All rights reserved. The purchase of Zinnia Sky Studio artwork or paper goods does not transfer reproduction rights. You may not copy or reproduce my artwork without permission.
CLICK HERE to sign up on my email to get the latest and greatest from Zinnia Sky Studio!
You can find Zinnia Sky Studio on Facebook, Instagram, Twitter & LinkedIn too!