Cheers to the New Year!
It's a new year – cheers to 2022! And as is pretty normal for me, I'm a little late. Ok, maybe more than a little but I'm going to go with the 'better late than never' adage. It's very representative of me. In fact, my kids now tell me that they're always early to appointments because I always made them late. And I tell them that I was always late because of them. I think I might win this argument because I was juggling four kids all going in different directions and I spun a lot of circles before finding my direction! It still applies even though they're all in their 30's and not going anywhere with me now right?
some studio news….
2021 is in the books and here we go 2022! The fall of 2021 was Tim's first full show schedule in his new career at Zinnia Sky Studio and he had so much fun, he's agreed to do it again this spring! I don't know about you, but I'm incredibly thrilled with that. I can no longer imagine doing all this without him. The transition to working together has not been without its challenges – two bosses in one space, you know – but it's smoothing out and as we knew, our differences complement each other almost perfectly.
Our Spring 2022 schedule is coming soon – you can find it HERE.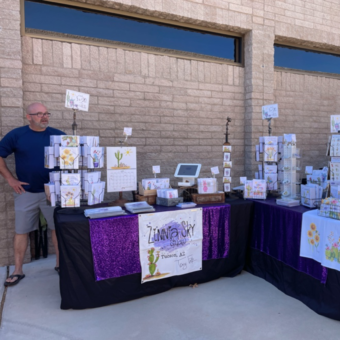 have you read the news?
Ok, that wasn't a fair question. And I'd take it back, but one of the things you might have read in the news has creeped into the studio. I bet you won't even be surprised which one it is! Yep, it's the supply chain issue. You may notice some differences in a few things now and then. We find them frustrating and you may too, but be assured that they're just temporary. And while we struggled through some of these issues, we're very thankful that as of yet, we haven't had to do without and have been able to find workable solutions to keep going.
wondering what's coming new?
I love new things – how about you? Sometimes Tim thinks I love new things way too much. But I just ignore him because you need new things! Are you wondering what new things you're going to see soon? Well the Arizona Series is on the way!
Last fall we introduced a new line of magnets which we'll be adding new designs to very soon. These magnets are made right here in Arizona, are beautifully assembled to look great on both sides – even though you probably don't really care what the magnet side looks like, and are a great little piece of art to brighten your metal surfaces and to share as gifts.
Our vinyl stickers have been flying out the door so of course there will be some new designs coming to them too. I had a great time creating these and I know you're going to love them! They're all about Arizona and our wonderful plants and wildlife. Oh, and color! Lots and lots of color.
You'll also see some new mixed card sets, a redesigned birthday calendar, hopefully in two sizes and one very special surprise product that I can't wait for you to see!
Featured here are the Succulent Medley Hard Magnet, Succulents Flowers Vinyl Sticker, Javelina Blue Hard Magnet and Mountain Saguaros Vinyl Sticker. New designs are coming soon but these are available right now!
We're looking forward to seeing you sometime soon whether it be at a market, an art show, Facebook, Instagram or our website!
Better yet… maybe we'll see you everywhere!