It's December and almost to the end of 2020!  Is that a woohoo?
Happy December!  Has this year felt a little long to you?  I know it has for me – I feel like we should be all the way into spring already, but last week was just Thanksgiving! Thanksgiving here in the desert always feels a little different to me.  Some years we've started the day with a hike, which I think is the most amazing way to start any day but even more so on a holiday.  But this year Thanksgiving was especially quiet as I imagine yours was too.
We're a global family!
We have a large family – we started with four kids which turned into eight kids plus three littles so not only are there a lot of us, but we live all over the darn world!  We were fortunate to raise these kids in a small town in the Midwest.  You know the kind you see on tv?  A safe and happy little town where they walked to their friends' house, came home when the streetlights came on, went to school with kids of the kids I grew up with and everyone knew who they were.  So as they grew up and began to look at their futures, I told them it was a great place to live, but before you settle here, go see the world.  Little did I know they'd actually do it!
One joined the military full-time and left home at 18, one landed a job literally chasing trains all over North America, met a girl and ended up in Canada, one fell in love with Europe on a high school class trip, found an amazing au pair opportunity in Germany and stayed, and the youngest joined the Air National Guard, found a great job and followed us to Arizona.
So what do we do for the holidays?
With three countries, two continents and a lot of jobs, you can imagine how hard it is to coordinate any type of get together, so we've found creative ways to always be in touch.  This also means holidays are never a big gathering for us.  There's just too much travel and coordination involved for it to be enjoyable so we consider anytime we gather to be a holiday, whatever the date may be.
Our 2020 Thanksgiving across the miles….
Our day started before sunrise – not to put a ginormous turkey in the oven, but to let 8 tiny dogs out to do their business.  Once that was taken care of, the entire day lay spread before us and how to spend it.  Oh my!  So many choices.  So we started with coffee, and then started checking in with the kids.  Here's how our 2020 Thanksgiving looked thru WhatsApp:
Germany
Rachel & David in Germany had a close group of friends who wanted to celebrate Thanksgiving American style with them, despite it being a work day in a pandemic.  Since our traditional favorites are not really German oriented, they had to add in a little of their own creativity but they did a pretty amazing job if you ask me.  The best part is knowing they had a great celebration with people important to them and turkey – they had turkey!
Tucson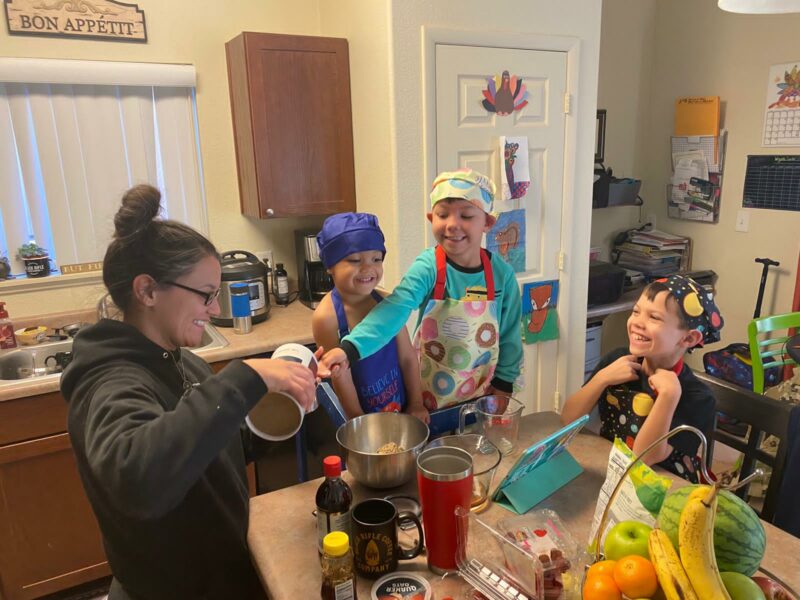 Zach, Renee, Wyatt, Carter & Eli in Tucson spent their day cooking a marvelous dinner and we FaceTimed with them when it was done.  I'm pretty sure these boys are going to be really good cooks very soon.  Their parents have included them in the kitchen from the very beginning and they love to cook.  For one of their Mimi weekends this summer I asked what they all wanted to eat while they were here and Carter said he wanted cheesecake with every meal.  So, being the non-cook that I am, I enlisted Sara Lee's help.  When he realized that I hadn't made it myself, he would have no part of it.  I guess his mom's awesome cheesecake has spoiled him for all others!
Canada
Nathan & Lori in Canada actually celebrated Thanksgiving in October so Thursday was just another work day for them.  While Lori went to the office to do her job, Nathan worked from home with the dogs.  Since he grew up with our Thanksgiving, he invited the dogs to join him for a little American festivity.  We had to vote this one our favorite because seriously, is there a better picture than this?
Phoenix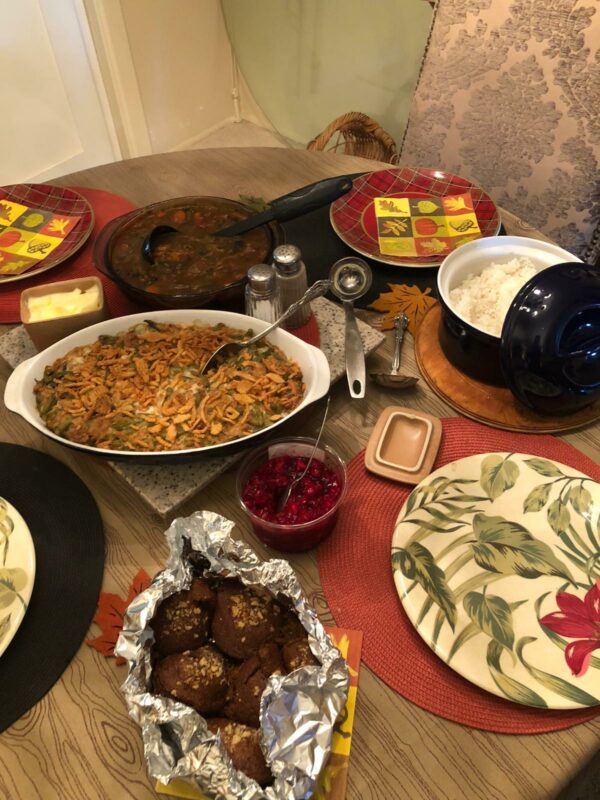 This was Jorie and Dennis' first Thanksgiving being married and they celebrated with her new family. Since Dennis' mom Mary works in healthcare and was scheduled to work that evening, they planned a non-traditional meal.  Mary was so incredibly sweet to surprise Jorie with her very own green bean casserole!
And now here we are in December looking forward to Christmas!
It's the first of December and the holidays are so close now!  For our family here in Arizona, we'll have a very small Thanksmas get together and roll Thanksgiving and Christmas all into one great day.  And while we hang out, we include the Canadians and the Germans in with us online and even though it's not perfect, it's ours and it's good.
I hope that no matter what your December looks like – whether it's drenched in sunshine or wintery – you have good things to enjoy.  Nothing is perfect but I've decided perfect is totally over-rated.  Imperfection is what makes things uniquely ours and why we love them.  So have a marvelously imperfect December – fill it with tiny twinkly lights, cinnamonly smells and things that make you smile.
If you aren't celebrating as much in person this December …  send some smiles in the mail instead!
You can find lots of Christmas, Hanukkah and Happy Holiday cards HERE to make it easy.  And every card needs stickers so I added some brand new ones just for you!  Check them out HERE!