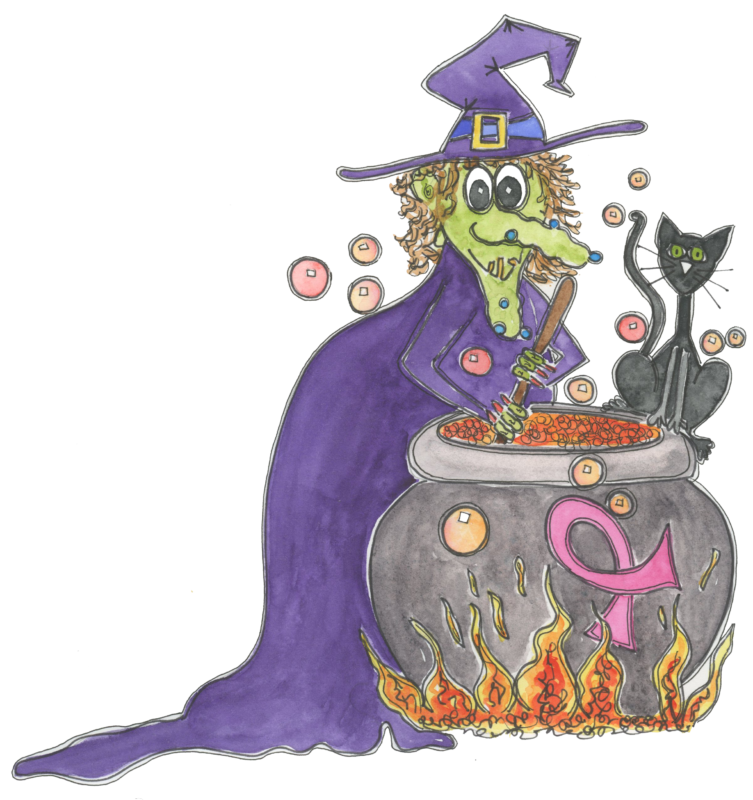 We all know Halloween is THE October holiday.  It's like October is just a prequel to Halloween.  Even if you're not into trick or treating, it's hard not to get into the Halloween spirit.  How can you not be amused by grinning jack-o-lanterns, cackling witches, howling werewolves and ornery ghosts?
What's your favorite part of Halloween?  Do you like to be scared?  Is your favorite Halloween thing to go to all the haunted houses, watch scary movies all month long and spend your pre-Halloween time anticipating what's hiding in the basement?  I'd suggest some scary movies for you but I hate to be scared so I don't know any.  Or do you like to be the one doing the scaring?  Do you dress up for trick or treating and make the kids run screaming down the driveway?  Or are you like me and you just like how much fun it all is?
All the non-scary things are just as fun though right?
It's true that not everyone likes to be scared.  I hate to be scared but I love the silly spooky things about Halloween.  And the jack-o-lantern is a must have!  This is a big deal.  So many decisions go into creating the perfect Halloween pumpkin.  First, what do you want your pumpkin to be?  Is it going to be funny, scary, spooky, silly, strange, creepy, or traditional?  Then you have to decide if it's going to be giant, tiny, tall, short, skinny, round or just pumpkin-y.  And then what color – orange, green or white?  This is when you start to wonder if they deliver ready-made jack-o-lanterns like pizza.

Once all that is decided, then the fun begins.  As you stab the top of the pumpkin at just the right angle to create that perfectly round lid, you suddenly realize that this giant vegetable fruit isn't going to be as cooperative as you thought.  The skin has now revealed itself to be about 8″ thick and partially concrete.  The knife no longer slides in and out like a well oiled saw, but instead digs in at every push and insists on staying there.  By the time this beast is carved and you've peered into the depths of its fruity soul, your hand is permanently clenched around the knife handle and you can't see anything thru the sweat dripping off your brow from the exertion.
How did this get to be so hard?
Once the knife has been pried out of your fingers, it's time to scrape the guts out of this thing. Remember how much fun this seemed just 3 and a half hours ago?  Yea, suddenly this has become work – how did that happen?  But onward ho – there are pumpkin seeds in there!   Now it's time to forage around in the slimy pumpkin goo for those plump white treasures.  Oh but wait, they're still attached to the slime and have to be disconnected, one by one from those mushy strands.  Joy.
But then, it's done.  The face you so carefully planned is glowing eerily in the darkness.  The lid is giving off that burnt squashy smell as the candle flames lick it from below and the kitchen smells like roasted pumpkin seeds.  Now you can stand back and admire your hard work as you savor those salty little morsels that only come around once a year but are oh so good.
Below is the recipe I use for our pumpkin seeds but there are so many variations out there that you will want to find the perfect taste for yours.
Roasted Pumpkin Seeds
all the pumpkin seeds you so carefully removed from your now complete jack-o-lantern
generously coated with olive oil
salt to taste
bake in 300 degree oven until crispy golden brown
enjoy!
If you love Halloween like I do, then share the fun and send a special card to all your favorite peeps.  Find your perfect Halloween card HERE.
But do you know how Halloween started?  And why we carve pumpkins?  When I thought about it, I realized that I didn't and I thought maybe you didn't either.  So, like always, I went and looked it up for us.  I found it to be very interesting!
The origins of Halloween.
It started 2000 years ago in the United Kingdom and Northern France with the Celts.  They celebrated the new year on November 1.  It was the end of summer and the harvest and the beginning of the dark, cold winter.  It was their belief that on the night before the new year, the boundary between the worlds of the living and dead became blurred.  On this night, October 31st, they celebrated Samhain, when it was believed that the ghosts of the dead returned to earth to cause trouble.  During this celebration they dressed up in costumes and burned huge bonfires.
Halloween initially got a slow start in America.  But in the later part of the 19th century when America was flooded with new immigrants, especially the Irish fleeing the potato famine, it became nationally popular. Jack-O-Lanterns also came with the Irish from a myth about Stingy Jack. Back in Ireland they carved demonic faces out of turnips to frighten away Jack's soul. When they came to the U.S., they began carving jack-o'-lanterns from pumpkins instead. With the influence of the European traditions, Americans started dressing up in costume and going door to door asking for food or money, which eventually became trick or treating.  That was followed by community celebrations with games, seasonal foods & costumes.  And now Halloween in America is the second largest commercial holiday!
Want to know more?
There's actually a lot more to this story that I left out.  If you'd like to know more about the origin of Halloween and some interesting side notes as well, CLICK HERE to read more.