The Next Part of How Did that Become a Card is the second in a series of how an idea becomes a card. If you haven't read the first part to this post, you might want to go back and read it first.  In that post, I explained how an idea becomes a Zinnia Sky Studio card.  How sometimes just a word or a conversation can turn into an idea. And that ideas goes on a list and someday become a card that you send to someone special.  But what happens between the list and the card?  Here's more of the story for you.
The next part … from the list to the sketchbook.
While I'm out and about having fun seeing everyone at art shows and the farmers market, I'm filling up the list.  I'm out collecting ideas from October until May so you can imagine the size of that list!  I know you might be getting tired of hearing about the list.  But I have to tell you that that list is probably my most valuable tool, so I do obsess over it.  Once things are winding down and the desert begins to warm up nicely, I start spending a lot more time in the studio with my sketchbook and paintbrushes.
I try to do all my painting for the next season between May and October.  That sounds like a long time but boy, does that time fly by fast!  In my opinion, coming up with the idea is the hardest part of creating, so the list helps tremendously.  Since holidays have a definite timeline to fit into, I usually start with them.  The fall holidays come first and while the sun blazes out my window, I'm working with pumpkins and snowflakes.  I'll start working my way into the list and see what catches my mind easiest.  For the holidays, the idea doesn't necessarily have to be specific to it.
As an example, Valentine Javelina Cupid actually started by the idea of cupid flying over the desert shooting his arrow into the critters.  I got stuck on drawing cupid and didn't like anything I sketched out.  After a bit of musing, I reversed the idea into a desert critter becoming cupid and voila – a javelina cupid fell right out of my pencil onto the paper.
And onto the paper…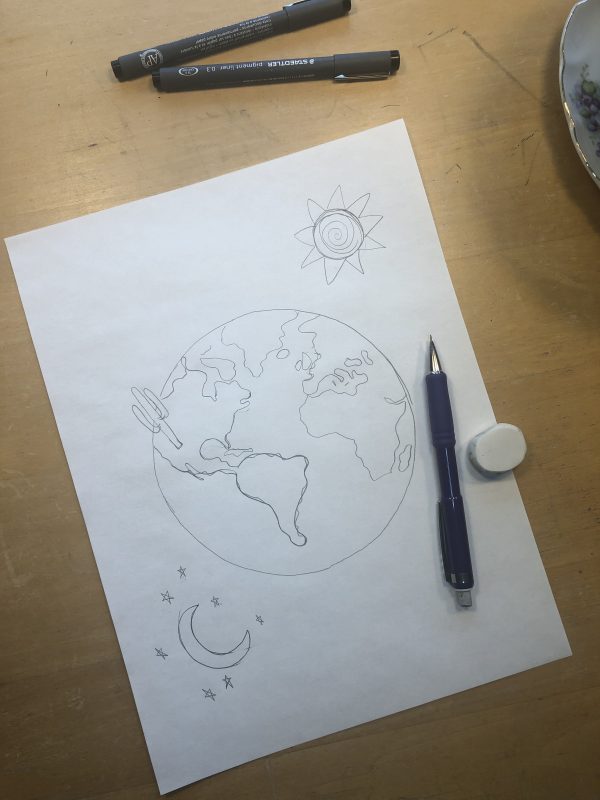 If sketching is going well, I'll spend all my time sketching and keep dumping the ideas onto paper.  A good day ends with a pile of sketches.  While I consider ideas the hardest part of my creative process, sketching can be the most aggravating.  Once I have that idea in my head it becomes a vision.  And from the vision, my hand now has to create a real image.  Sometimes its incredibly easy and they literally flow from my head right out to my hand.  I love those days!
But then there are days I just can't do it.  Those days I cut paper, sharpen my mechanical pencils, watch the birds out the window or as a last resort, clean the house.  Those days are hard but one thing I don't push is sketching.  For me it's there or it's not.  I can't force it to happen so I walk away.  Sometimes for days.
Once the sketch is on paper and I haven't scratched any holes in it with my eraser, I transfer it to watercolor paper using a light box.  A good friend found my most favorite light box at a flea market for $5. It was old and big but perfect in its own way and I used it for years.  Flea market finds are the best!
Then what?  Paint of course!
While ideas are the hardest and sketching is the most aggravating, painting is my favorite.  Once my drawing is on watercolor paper and ready for paint, the fun begins. The thing about watercolor is that it's very unforgiving. There is no erasing. There is no painting over.  If I make a mistake, I'm starting over.  That's why I sketch everything first and then transfer it so if I do have to start over, the hardest part is done.
I don't actually plan the colors before I paint.  I'll usually start with what I think will be the most prominent color and then work from that.  I use a very limited palette of colors even though I own a gazillion tubes of paint.  The colors that have made it to my favorites work well together.  I know what sits nicely next to what and what makes mud.  But there are still times I want to use something different or I need to bring in an extra color so I keep scraps of cut paper on hand to experiment with.
After the paint dries…
Once the paint has dried, it's ready for ink.  When I first started with watercolor, it looked very unfinished to me and I didn't like it for that reason.  So I took a Sharpie and I outlined everything.  My eyes needed that definition and I think at that point I also defined myself as an illustrator.  That's all it took for me to fall totally in love with watercolor and never go back to oils and acrylics.
As much as I love painting, I am obsessed with the inking part of my work.  The ink brings it all to life for me.  I love creating the details that define what's going on.  My paintings are flat and lifeless to me until they are inked.  There are amazing artists out there who can do it all with their paint.  For me, it's the ink.
Now that there's a painting – how does it become a card?
Now that the painting is done, it needs to become a card, right?  Right. There is still more creating to be done but I'll have to leave that for the next time – stay tuned!
CLICK HERE to read the next part!